The children's museum in intensive planning process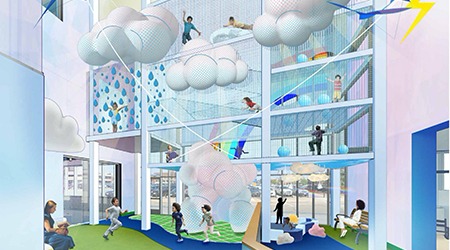 by Dennis Dalman
The Great River Children's Museum was a long time coming and it's still not there, but – wait – it's due to open in 2023.
Cassie Miles, the museum's executive director, told Newsleaders that construction will likely begin towards the end of this year and could take 12 to 15 months.
The museum and its programming will be designed for children from 0 to 10 years old.
In the meantime, grants are sought and funds are raised through individual and commercial contributions to make the museum's dream come true. When it opens, it will be the second largest children's museum of the eight currently in Minnesota – the largest being the Minnesota Children's Museum in St. Paul.
The plan is to convert three current adjacent buildings on Seventh Avenue S. into downtown St. Cloud into a museum. One of the three buildings, the former Liberty Bank, was donated to the Children's Museum by Donald Helgeson de Sartell, one of three children of the man who opened the Gold 'n' Plump Hatchery on this site he several decades before it became a bank. . Helgeson, who moved to a house on the Sartell River in 1957, died on April 20 at the age of 94. Helgeson and his brother, Jerry, owned Liberty Bank for many years.
The museum, with its 30,000 square foot space, will serve all of central Minnesota and 11 surrounding counties, the same area served by the Great River Regional Library system, which will be a program partner with the museum. In fact, Miles noted that museum-like "pop-up" exhibits (also known as learning "experiences") have already appeared in many regional libraries – in Annandale, Becker, Clearwater, Paynesville, Pierz, Richmond and Swanville. the exhibitions rotate from library to library every two weeks. Other libraries will be added later this summer. These pop exhibits are like "sneak peeks" of what children, their siblings, parents and friends can expect to experience when the museum opens.
The museum's projects have involved (and still involve) an extensive partnership of people and companies. Split Rock Studios in Brooklyn Park, Haizlip Studio in Memphis, Tennessee; and Kidzibits of St. Paul are the design/manufacturing team for the exhibit. GLT Architects of St. Cloud is the project architect and BCI Construction of Sauk Rapids will provide construction management.
The Great River Children's Library is governed by a board of 13 volunteer members, including Dr. Glen Palm, who pioneered the museum concept. Palm, a professor emeritus at St. Cloud State University, has taught classes on child development, parent education, and parent-child relationships.
Besides the museum board, there are also several committees made up of more than 30 volunteers.
"They work hard to ensure that the installation, exhibition environments, programming and other experiences of the GRCM are rich in learning opportunities that promote development and complement learning from the school curriculum," said miles. "The paid staff is small at the moment, with myself, a full-time program and outreach manager, a communications specialist shared with the Stearns History Museum, a Bonner Leadership Group intern at the College of St. Benedict / St. John's University and a hardworking student at St. Cloud State University.
The underlying concept of GRCM is that children learn best through hands-on experiences that involve all the senses: sight, touch, taste, hearing, smell. That's why many museum exhibits will be interactive so kids can explore through touch, play and fun.
The following is an example. An exhibition space is being designed called "Community Connections". It will include a global "marketplace" that features foods, spices, and more from various cultures and locations around the world. Kids will smell the spices, discover food textures and enjoy a visual feast of colors and sizes as they put together bouquets of flowers and sort produce.
One of the purposes of this particular exhibit is to demonstrate that even though people are different in many ways and come from different places, backgrounds and cultures, all people are bound together by a common humanity.
One of the exhibits already designed is called "Climber to the Clouds", sponsored by the Coborn Family Foundation. Located in the heart of the museum, Climber to the Clouds is intended to amaze visitors as soon as they enter the museum's expansive atrium. Kids will be able to climb higher and higher, above cityscapes and rivers, explore and interact to learn more about weather systems and even create their own rain, thunder, wind and rainbows.
Another interactive exhibit will be called "Headwaters," based on the inspiring nature of Minnesota, featuring the call of loons, a crackling campfire, leaves rustling in the breeze, and other sights and sounds of the great outdoors.
Another exhibition, also interactive, will be "Great River" in which children will be able to discover the importance of water as a habitat, as a means of transport and as a vital resource for so many cities and towns.
There will also be outreach programs at the museum to connect with children, parents, caregivers and educators at parks and festivals, schools and other venues.
The GRCM has been in the making since 2012 with many people and organizations contributing to the planning and design. Part of the planning process involved trips by board members and staff to other children's museums around the country to see and learn how to design the best exhibits and programs possible for children in central Minnesota.
Here are the museum's mission statements:
"Play is a powerful factor in the healthy development of a child. From birth, children practice a wide range of skills as they play, explore, discover and learn. The game encourages critical thinking and problem solving, intercultural competence, creative thinking, collaboration, perseverance, communication and curiosity.
To donate to the Great River Children's Museum, visit their website at greatrivercm.org and click "Donate" at the top of the screen.